Project Details
Gulf of Mexico Marine Assessment Program for Protected Species (GoMMAPPS)
Project Summary
Improved information is needed on living marine resource abundance, distribution, habitat use, and behavior in the Gulf of Mexico to properly mitigate and monitor for potential impacts of human activities, including related to offshore energy development. Understanding of cumulative impacts on protected species in the Gulf from both natural and anthropogenic forcing is required to inform NEPA documents and consultations and rulemaking related to Endangered Species Act (ESA), Marine Mammal Protection Act (MMPA), and Migratory Bird Treaty Act (MBTA), as well as other statutes that govern bureau activities. The results of this study will provide important information to inform both BOEM and BSEE regulatory needs, as well as other agencies and stakeholders involved in effective management and conservation of Gulf protected species.
Project Details
Gulf of Mexico Marine Assessment Program for Protected Species (GoMMAPPS)
Methods
The core of the GoMMAPPS program is to conduct broad-scale surveys to assess species distribution and abundance for marine mammals, sea turtles, and seabirds from near shore to the U.S. EEZ in the northern Gulf of Mexico. Key tasks include:
 
Conducting aerial surveys over continental shelf waters.
Conducting ship-board surveys on the shelf and out to EEZ.
Conducting satellite tracking of tagged animals.
Performing genetic analyses for composition and connectivity.
Developing spatially- and temporally-explicit species density models.
Project Details
Gulf of Mexico Marine Assessment Program for Protected Species (GoMMAPPS)
Project Status
Planning for the project began in 2015.
Fieldwork began in Spring 2017.
Program runs through 2020.
Trip Reports
Project Details
Gulf of Mexico Marine Assessment Program for Protected Species (GoMMAPPS)
Field Observations from GoMMAPPS Surveys
Following are notable observations reported from the field during marine mammal, seabird, and sea turtle surveys. Fieldwork began in Spring 2017 and is continuing for 3 years in the Gulf of Mexico. These observations are from scientists participating in the various field operations being conducted through ship surveys, aerial surveys, and animal tagging efforts.
---
Posted by Jeff Gleason (FWS) for Chris Haney (Terra Mar Applied Sciences, LLC) & Dan Bauer (Volunteer Observer)- R/V Pisces Leg 1 of Marine Mammal Survey
Posted on September 5, 2018
Leg #1 of this fall's GoMMAPPS seabird survey has logged 8 full days and 1 partial day (out of 18 total days projected). Departing Key West, we first worked track lines in the southeast Gulf of Mexico, including the western Florida Straits and well offshore of southwest Florida. Survey conditions have been near perfect, with seas mostly less than 3 or 4' and southeast tradewinds at a light 5-12 knots. Despite a bit of thunder, lightning, and even a few large water-spouts, no survey time has been lost due to weather.
Right now the Loop Current is situated far to the west and south of our current survey area. The result is that we have dodged relatively barren waters of anti-cyclones, instead surveying over more productive zones to the east and north. Waters in and around a large, moderate-intensity cyclonic eddy near 25 degrees N, 85 degrees W have consistently delivered some good bird sightings. At times we have also run across staggering amounts of Sargassum. 
Even away from nearshore waters, we typically detect from 5 to 9 different pelagic seabird species/day in the region surveyed. We have averaged just over 350 birds/day with a cumulative total of ~2,955 birds. On 16 August, we found more than 1,000 birds in just the one survey day, a daily tally that may be the highest ever during the GoMMAPPS program for the Gulf's deep, pelagic waters. Long periods with no birds have been exceedingly infrequent; rather, bird detections have been fairly steady throughout the day and/or along all the track lines.
Some other details and highlights from Leg #1 below:
Sooty terns are remarkably widespread and abundant. We rarely survey very long without seeing a few of these birds. Feeding flocks are often visible at great distance with some flocks upwards of 350-450 birds. Feeding flocks are incredibly dynamic, however, with birds coalescing over large fish (presumably tuna) rapidly, disbanding when the fish sound from the surface, then stringing out and soaring upwards to 100-300m until and unless the fish reappear. All-dark young-of-the-year birds frequently accompany adults. As in other GoMMAPPS surveys, sooty tern flocks continue to function as a catalyst for attracting other feeding species (see below).

A near-drought in brown noddies detected during GoMMAPPS ship-board surveys is over-- we found tens to low hundreds of noddies scattered in small feeding flocks south and southeast of the Keys in the extreme western portions of Florida Strait. Brown noddy seemed spatially segregated from sooty tern with the noddy mostly found in shelf waters closer to land whereas sooty tern tend to be more prevalent in deep, pelagic water very far from land.

A few roseate terns were detected only near the Keys, including some birds sitting on offshore buoys and channel markers.

Three separate black-capped petrels have been detected thus far, one at the very edge of the west Florida shelf, the other two found in very deep waters east of the Loop Current. 

A great shearwater was recorded in a feeding flock of brown noddies; notable for being late in the season.

A few Cory's shearwaters found, also in association with feeding sooty terns.

Thus far, Audubon's shearwater stands out mostly for it being relatively scarce compared to other seabird vessel surveys, at least in this portion of the Gulf and/or during this season. Fewer than 10 have been observed so far. It will be especially interesting to see if more are observed in the central and western Gulf of Mexico later during the fall MMC.

Band-rumped storm-petrels have been regular and widespread across this entire set of track lines, although always at low density.

Each masked booby seen so far has been an adult or sub-adult; slightly less common and/or widespread than the next species.

Brown booby continues to be regular throughout the survey area and seen almost every day. Currently we have two birds 'hitchhiking' aboard the vessel, roosting on the jack staff, and chasing flying fish put up by the bow of the R/V Pisces.

Tropicbirds have been surprisingly scarce on previous Gulf surveys, during both GoMMAPPS and the NRDA study carried out in 2010-2011. So two sightings of white-tailed tropicbird already, and one sighting of red-billed tropicbird, are nice additions to what is understood about this group in the Gulf of Mexico. Both of the white-tailed tropicbirds were full adults (tail length was longer in one of the birds), and both closely approached the Pisces. One was seen at the extreme outer edge of the west Florida shelf, the other in very deep water east of the Loop Current. A sub-adult red-billed tropicbird was seen as it circled and plunge-dived around the Pisces, it too being found in deep water northeast of the Loop Current.
 
Other interesting life observed include several marine mammals: unidentified blackfish (possibly false killer whale), Gervais beaked whale, Atlantic bottlenose dolphin, Atlantic spotted dolphin, and pantropical spotted dolphins. Other birds seen, most of which are trans-Gulf migrants, include: blue-winged teal, green heron, little blue heron, sanderling (and other unidentified shorebirds), Eurasian collared-dove, barn and cliff swallows, magnolia (and other unidentified) warbler, and bobolink. The NOAA ship Pisces is proving itself to be an incredibly convenient platform for seabird observations. Its flying bridge is spacious, the viewing angles are ideal (looking down and out), and ample shade makes it tolerably comfortable for virtually the entire day.
Species List to-date: 20 offshore, pelagic, and open-water species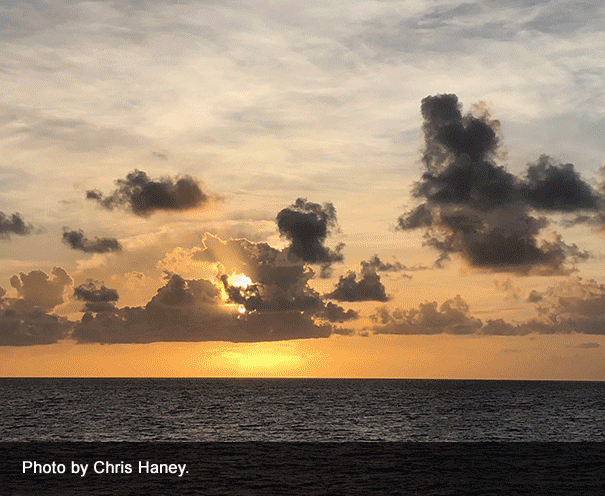 ● pomarine jaeger
● laughing gull
● sooty tern
● bridled tern
● brown noddy
● black tern
● common tern
● roseate tern
● royal tern
● sandwich tern
● black-capped petrel
● great shearwater
● Cory's shearwater
● Audubon's shearwater
● band-rumped storm-petrel
● magnificent frigatebird
● masked booby
● brown booby
● white-tailed tropicbird
● red-billed tropicbird


 
---
Posted by Meg Lamont (USGS)
Posted on July 5, 2018
In November 2017, USGS contractor David Seay joined East Coast Observers aboard the shrimp trawler Wild Dream II (owned and operated by Anthony Nelson) off the coast of Mississippi. As part of a project to dredge sediment traps, the group was trawling with gear modified to safely capture sea turtles and remove them from the path of the dredge. From November 1-6, six turtles were captured offshore of Petit Bois and Horn Islands. Of those turtles, five were juvenile and adult Kemp's ridleys (the most endangered of all sea turtle species) and one was a juvenile green turtle. The largest Kemp's ridley was an adult female that the crew named Big Nel. All six turtles were measured and weighed, they received individual ID tags and biological samples were collected. Finally, each turtle received a satellite tag so we could track their movements.

Big Nel was fitted with a Wildlife Computers SPLASH tag. This tag provides not only location data so we can track her movements, but also depth information so we can observe her dive patterns. We watched the location points provided by the tag as Big Nel left the MS region in winter and headed southwest towards Texas and Mexico. Historically, Kemp's ridleys nested exclusively on beaches along Rancho Nuevo, Mexico. In the 1970's, severe declines in nest numbers resulted in development of a bi-national project; this cooperative effort had the goal of establishing a new nesting beach for Kemp's ridleys in Padre Island National Seashore, Texas. The amazing efforts of the bi-national Kemp's ridley project team have been successful with consistent nesting now occurring in Padre Island NS.

We wondered if Big Nel was going to stop in South Texas or continue down to Mexico. We finally got our answer as she continued moving throughout the winter and finally stopped just offshore of Rancho Nuevo, MX. On May 27, 2018 an arribada occurred on Rancho Nuevo with more than 7,000 turtles emerging from the water on that one day to nest. Through extraordinary efforts of the bi-national Kemp's ridley team under the coordination of the Comisión Nacional de Áreas Naturales Protegidas (CONANP), Big Nel was observed on the beach during this arribada. Jaime Peña and Miguel Ramirez Castillo from the Glayd Porter Zoo shared photographs taken of Big Nel with our colleagues (Dr. Donna Shaver and Cynthia Rubio) at Padre Island National Seashore who in turn provided them to the USGS. It was nice to see Big Nel again! Her tag is still transmitting and we hope to continue observing her movements. She has provided us with an exciting journey so far!

We are extremely grateful to Jaime Peña and Miguel Ramirez Castillo from the Gladys Porter Zoo. We also acknowledge the contribution from our partners Dr. Donna Shaver and Cynthia Rubio at Padre Island National Seashore. Finally, we are grateful for the great work of the bi-national Kemp's ridley project team at Rancho Nuevo under the coordination of CONANP.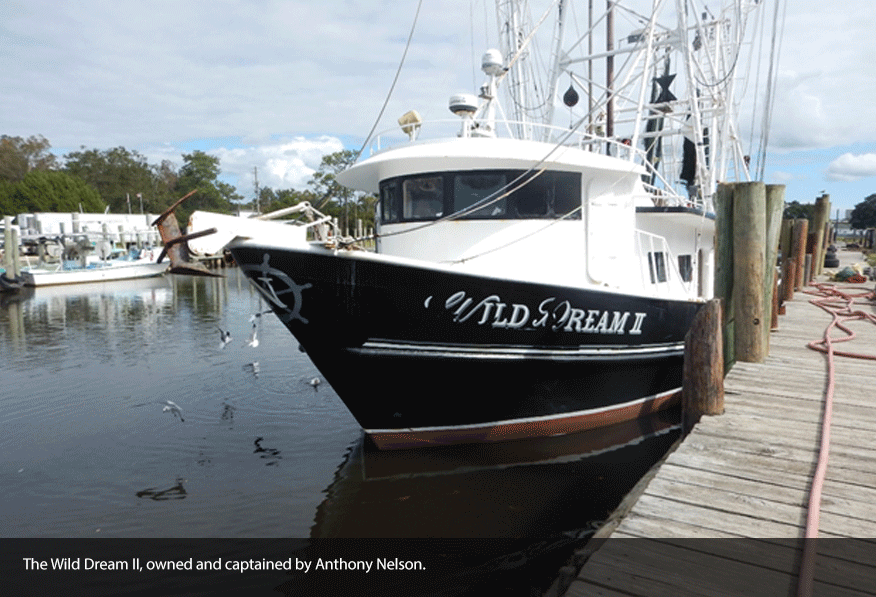 ---
Posted by Jeff Gleason (FWS) for Chris Haney (Terra Mar Applied Sciences, LLC) & Michelle McDowell (UFWS R1 MBP) – R/V Oregon II Leg 1 of spring plankton surveys
Posted on June 5, 2018
Leg #1 of the GoMMAPPS spring (plankton survey) seabird vessel survey aboard the R/V Oregon II has been completed (received on 14 May).

Leg #1 of the spring GoMMAPPS seabird survey is now a wrap. Our weather over the entire 15 days was nothing short of spectacular. The Oregon II's Captain Dave remarked he had never seen such relentlessly fair conditions during this transition season. Winds rarely topped 15-20 knots, so the seas usually stayed down to a very workable Beaufort 2 to 4. Viewing conditions for finding marine life were consistently good, although the UV radiation levels up on the flying bridge must have set records from the number of consecutive sunny days we experienced without any material cloud cover.

One consequence of losing no survey days to weather was the extensive coverage obtained on this first leg. Stations that we sampled on Leg #1 include all of those in the eastern Gulf and a great many in the central Gulf as well. After leaving the highly productive 'tuna grounds' off southwest Florida, our route took us into very deep, less enriched waters to the west far out in the Gulf near the edge of the EEZ and the international boundaries shared with Mexico and Cuba. Real-time images from satellite altimetry showed that we traversed some of the least productive waters found right now in the GoM: the Loop Current proper and an associated, semi-detached anti-cyclonic eddy found to its northwest. This year the Loop Current extended somewhat abnormally far to the west, and it covered a much larger east-to-west range compared to the conditions that were encountered during our GoMMAPPS surveys in 2017 over the same dates.

Some noteworthy observations from this leg of the spring plankton GoMMAPPS survey: Very low seabird abundance in anti-cyclones: Just reinforcing observations that we made last summer during GoMMAPPS, seabird abundances in the oligotrophic waters of Gulf anti-cyclonic water are extremely low. This is especially true for the interior portions of the Loop Current and the interiors of the warm-core eddy. On days that we were mostly confined to such water (e.g., 5 and 7 May 2018), abundance of marine bird species plunged to a mere 5 to 12 individuals daily (consisting of only 3 species). Otherwise, typical abundance of marine birds in deep Gulf waters ranged from the 20 to 50 daily, with a surprisingly high species richness of 7 to 11 species per day.

Pomarine jaeger: A species that continued to out-perform expectations, particularly with respect to its widespread occurrence and unexpected associations. Pomarine jaegers were found virtually throughout this survey, although they declined in abundance towards the west and then northward closer to the coast. Many pomarine jaegers were foraging alone or together in small groups; we rarely saw them interact with other seabirds. Because most were NOT traveling in a northerly direction as might be expected from migration movements alone, they struck us as well able to make a living on their own in the far Gulf.

Parasitic jaeger: Only a single bird observed, and it was in classic robbery mode chasing sooty terns over bait fish. Probably not encountered as often due to our being so far from coastal waters, a habitat where we often see them associated with trawlers and mixed species foraging flocks that are attracted to the by-catch.

Herring gull: A single adult bird found in remote waters of the central Gulf on 8 May was notable mostly for its late date of occurrence in these pelagic waters. Herring gulls are (and were during all Legs of the Winter MMC) widespread and common in the offshore Gulf of Mexico during winter.

Common tern: We detected a few more feeding flocks of this species over bait fish, although this time in coastal waters surrounding the Mississippi River delta, instead of the shelf/slope breaks. We also recorded some birds migrating north across the central Gulf, lending more credence to the potential importance (seemingly overlooked previously) of this water body to mass movements by common tern.

Black tern: Seen in migration over the central Gulf, and in small groups apparently foraging over turbid coastal waters near the Mississippi River delta. Not found yet, though, in the huge feeding flocks seen in the warmer months of 2017.

Sooty tern: Essentially absent from the interior of the Loop Current and associated warm-core eddies. After leaving the tuna grounds off southwest Florida, we only saw very few scattered pairs commuting (not feeding). When we first encountered a feeding flock once again in the central Gulf on 9 May 2018 (at 26.8 degrees N, -91.995 W), we were already out of those least productive waters. Indeed, this location was actually closer to the sooty tern breeding sites on the atolls of Mexico's Campeche Bank than to the colony at the Dry Tortugas.

Black-capped petrel: A second bird was recorded on this survey leg at 28.804 N, -86.996 W, just east of DeSoto Canyon at the shelf/slope break in the general vicinity where we also found one or more birds during March 2018.

Audubon's shearwater: Far less abundant than during our March 2018 GoMMAPPS surveys, likely because most birds having exited the Gulf of Mexico entirely in order to return to their breeding grounds to the east (their closest colony is at Cay Sal Bank, Bahamas, north of Cuba near the Florida Straits).

Band-rumped storm-petrel: Widely scattered but rather sparse, in groups of 1 up to 3, over deep, abyssal plain waters of the central Gulf. When we did find them, it tended to be outside anti-cyclones and/or near areas of water mass transitions and edges. They seemed to be less abundant than in 2017 in the same general areas surveyed. Deep waters of the central and western Gulf of Mexico last year may have been more suitable for this storm-petrel due to the then-presence of large cyclonic (upwelling) eddies and strong current shear found along the 2017 survey tracks.

Brown booby: Widespread, found from the waters off Florida west to the central Gulf, and north even to the turbid outflow of coastal waters near the Mississippi River delta. Compared to 2017, it didn't seem quite as dominant in terms of its absolute abundance or as compared to the masked booby.

Masked booby: Widespread off Florida and westward in deeper waters of the central Gulf. This year seemed only slightly less abundant than brown booby on Leg 1 of this survey. Every individual seen was a year-one immature bird. A carcass of a recently-dead bird found floating at 25.998 N, -91.364 W was thought to be this species (and also the year-one age class).

Other birds - Spring migration was still in full force. Migrant birds additional to those mentioned in the earlier blog for May 1 included: blue-winged teal, great blue heron, least and spotted sandpiper, two merlins (one carrying a small songbird apparently caught while flying over the sea), chimney swift, ruby-throated hummingbird, bobolink, gray catbird, ovenbird, yellow warbler, black-throated blue warbler, and palm warbler.

Other marine life - Flying fish remained abundant nearly throughout the entire survey leg. We added several more detections of striped dolphins, remarkably making this the most frequently detected marine mammal species found on Leg 1. It seemed to be the dominant species along our deep survey lines in the south-central Gulf. We also saw several sperm whales, including some that put on a stunning show of full breaching, a pod of confiding Risso's dolphins (Grampus), and a very spread-out group of false killer whales Pseudorca crassidens. The latter were also extremely active, breaching, spy-hopping, and fluke-slapping. Marine mammals, too, were absent from the interiors of anti-cyclonic waters. But we almost always found one or more species at the crossings from one water type to another.
Species List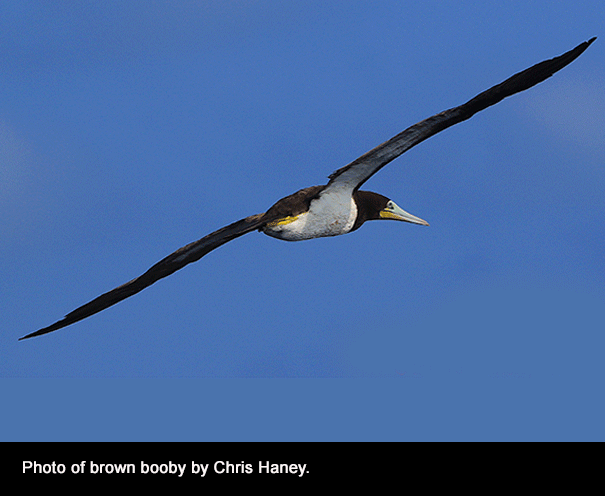 ● red phalarope
● red-necked phalarope
● pomarine jaeger
● parasitic jaeger
● herring gull
● laughing gull
● common tern
● black tern
● sooty tern
● bridled tern
● royal tern
● sandwich tern
● common loon
● black-capped petrel
● Audubon's shearwater
● band-rumped storm-petrel
● Leach's storm-petrel
● magnificent frigatebird
● brown booby
● masked booby
● northern gannet
● brown pelican
 
---
Posted by NOAA Fisheries, SEFSC – Winter Marine Mammal and Sea Turtle Aerial Survey
Posted on May 15, 2018
Jan 19, 2018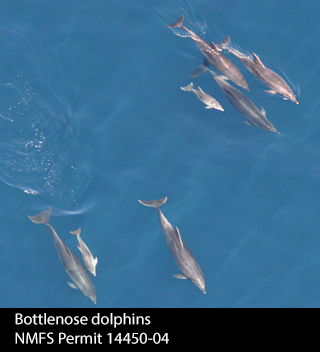 Our area of focus today was the waters of eastern Louisiana from the Chandeleur Islands to the mouth of the Mississippi River as well as a north-south transect line that ran from just south of Petit Bois Island, MS out to the edge of the continental shelf.

It was on this last line of the day that we encountered our first concentration of sea turtles on this survey. A total of 54 sea turtles were sighted on this one line alone and consisted of loggerheads (Caretta caretta) and Kemp's ridleys (Lepidochelys kempii).

We also finished the day with a total of 25 groups of common bottlenose dolphins (Tursiops truncatus).
Feb 8, 2018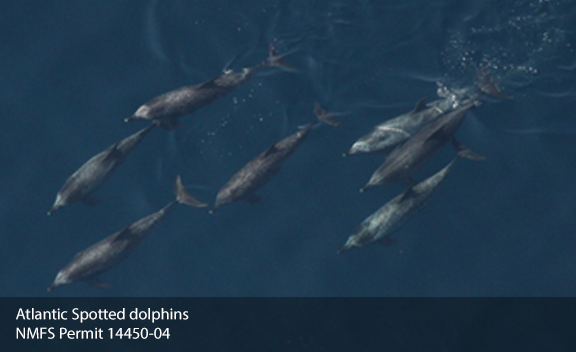 Today our aerial survey team was able to conduct two flights covering 6 transect lines in continental shelf waters off the central coast of Louisiana. We had this survey's first sighting of Atlantic spotted dolphins (Stenella frontalis) on our first transect line of the day. We estimated the group to be 58 individuals, with at least one calf present.

Atlantic spotted dolphins and common bottlenose dolphins (Tursiops truncatus) are the only two species of dolphins that regularly occur in northern Gulf of Mexico continental shelf waters.

We finished the day with 22 marine mammal groups and 58 sea turtles, as well as 23 manta rays, 8 hammerhead sharks, and many unidentified sharks.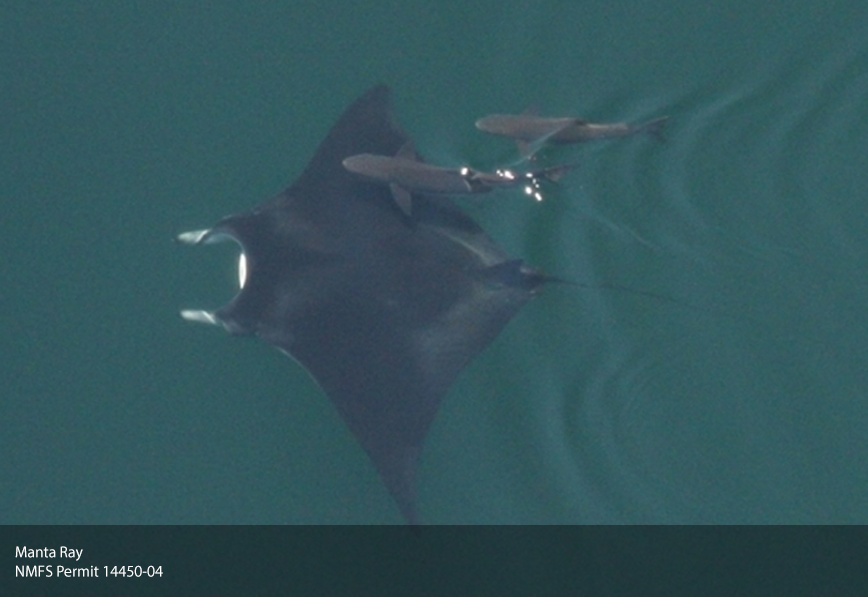 ---
Posted by NOAA Fisheries, SEFSC, Marine Mammal Team, Winter Cruise on NOAA Ship Gordon Gunter
Posted on May 15, 2018
Jan 17, 2018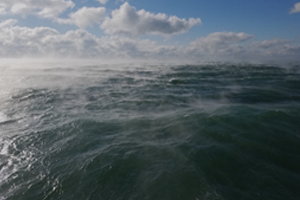 Sea smoke forms when very cold air moves over warm waters. On this cold morning, scientists were treated to amazing views of this event south of the Mississippi Delta. The surface water temperature was around 70° F and the air temperature was in the 30's, a perfect combination to create a beautiful effect in the high seas!
Feb 20, 2018

On the cruise, we also use passive acoustics to listen to whales and dolphins which helps us identify the species and sometimes count the number of animals producing sounds. Passive acoustic methods are especially useful for finding the deep divers, such as sperm whales, that may spend up to an hour on a single dive and therefore, may not be at the surface for visual observers to see when the ship passes by. We tow an array of hydrophones, or underwater microphones, behind the ship which allows us to detect and localize the sounds produced by whales and dolphins. On this day, we counted more than 35 sperm whales based on detections of their echolocation clicks, which they use to navigate and find prey.

This picture shows what our computer displays look like when we are listening to and recording sperm whales and shows how changes in the bearing of an individual's click trains as the ship passes by yield tracks that allow us to localize individual sperm whales. These localizations can show us how tightly grouped the whales are and where they are in relation to the ship. The sound types they produce can even tell us when they're hunting at depth or surfacing.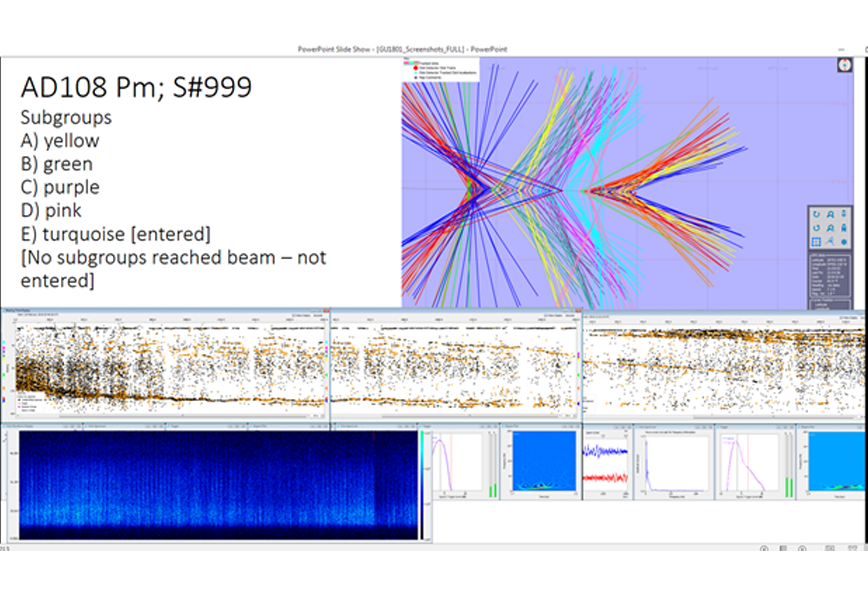 Mar 14, 2018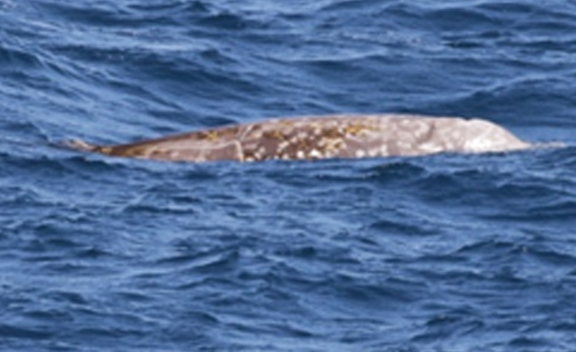 Scientists onboard the NOAA Ship Gordon Gunter were able to photograph a group of Cuvier's beaked whales (Ziphius cavirostris). This species is known to perform deep dives (> 1000m) up to 40 minutes in search of deep-sea squid. In the photos you can see the presence of lines called rake marks that are produced when males, which have erupted teeth at the lower jaw, interact with each other. Their bodies are also covered in diatom algae giving them the brown coloration. The round circles are scars produced by cookie-cutter sharks that feed by removing a "plug" of flesh from the whales.
---
Posted by Jeff Gleason (FWS) for Chris Haney (Terra Mar Applied Sciences, LLC) & Michelle McDowell (UFWS R1 MBP) – R/V Oregon II Leg 1 of spring plankton surveys
Posted on May 4, 2018
Leg #1 of the GoMMAPPS spring (plankton survey) seabird vessel survey aboard the R/V Oregon II has been underway now for 5 days (received on 1 May).

Winds so far have been mostly light (7-14 knots), and the seas easy (Beaufort 3 and 4). Observation conditions have been near perfect, with visibility unimpaired either by haze/humidity of summer or distortions at the horizon from temperature inversions so prevalent this past winter. We've had nary a drop of rain. This leg of the survey covers the eastern Gulf of Mexico, starting along a series of stations that straddle the edge of the continental shelf off the west Florida coast. For the most part, we have not yet spent much time in the deepest waters of the Gulf of Mexico. Because the NOAA/AOML website for daily satellite imagery has been locked on 26 April for several days now, we're cruising blind to the synoptic oceanographic conditions.

Tallies of open-water marine birds have ranged from the mid 10's to the mid 100's of individuals daily. Some highlights below include (complete seabird list below):

Red phalarope: a single bird molting into alternate plumage and feeding within a large patch of Sargassum was a nice surprise. I would have guessed that red-necked are more likely this time of year, but in truth, we simply don't have enough records for either species to speculate much about phalarope status in the GoM.

Common tern: we detected feeding flocks of this species over baitfish in far offshore waters of the Big Bend region. This confirms earlier findings the year after the DWH incident (2011) of potentially large numbers of this migrant during spring months in the waters that were most affected by the 2010 spill.

Sooty tern: feeding flocks...lots of them...mostly south of 26.5 degrees N. If these flocks are sufficiently large and/or of long duration, they are joined by, e.g., masked booby, Audubon's shearwater, pomarine jaeger, and magnificent frigatebird. We were fortunate to watch some flocks go through a 'complete' cycle of formation and disbanding. Smaller tuna (blackfin?) seem to be the origin for these flocks.

Black-capped petrel: one bird seen feeding alone in early evening off west Florida in waters 700-900 m deep.

Band-rumped storm-petrel: observed in groups of 1 up to 4, mostly over lower continental slope waters (500-1000 m).

Northern gannet: much less abundant than last month, but still present in nearshore waters over the shelf. Virtually all remaining gannets that we've detected have been year-1 immatures.

Brown pelican: an immature seen in pelagic waters, sitting on the sea surface. These sightings are much less surprising now that satellite tagging has revealed regular cross-Gulf migrations by this normally coastal seabird.

Other birds observed: Spring migration is more conspicuous now than it was last month. Species tallied so far include purple martin, barn swallow, bank swallow, northern rough-winged swallow, and cliff swallow, Cape May warbler, American redstart, veery, Swainson's thrush, eastern wood-pewee, yellow-billed cuckoo, plus a diverse suite of Ardeids to include great egret, snowy egret, numerous cattle egrets, as well as a green heron. In addition to various unidentified shorebirds, a semipalmated sandpiper rested on the ship's deck for most of a day. A common nighthawk winged past the flying bridge one sunset.

Other marine life observed: We have run into plenty of flying fish this trip here in the southeastern Gulf (of varying sizes) and lots of Sargassum as well. We have had some especially noteworthy marine mammals; Atlantic bottlenose, pantropical spotted, and Atlantic spotted dolphins were expected here in the Gulf. A group of 18 of the latter spent a morning loitering around the Oregon II, inspecting first the plankton nets and then the CTD, and offering superb photographic opportunities. We were quite pleased also with two rough-toothed dolphins Steno bredanensis riding waves along the ship's flanks, so close we could easily see the pink-tipped beak, white lips, and of course the sloping, cone-shaped head. This is one prehistoric, reptilian-looking marine mammal! The day after, we had even more luck with two striped dolphins Stenella coeruleoalba, the first of this species that I've ever seen. These stayed with us for a while, long enough to be videoed. They were quite curious, and showed off by bow-riding upside down.
The remainder of this survey will take place in very deep water, much further from land, to the west.
Species List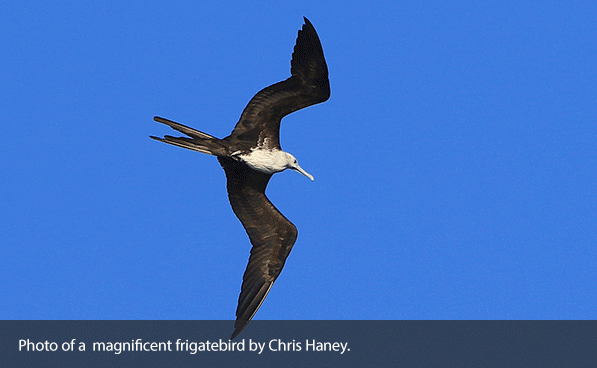 ● red phalarope
● pomarine jaeger
● laughing gull
● common tern
● sooty tern
● bridled tern
● royal tern
● sandwich tern
● common loon
● black-capped petrel
● Audubon's shearwater
● band-rumped storm-petrel
● Leach's storm-petrel
● magnificent frigatebird
● masked booby
● northern gannet
● brown pelican
---
Posted by Jeff Gleason (FWS) for Chris Haney (Terra Mar Applied Sciences, LLC) & Dan Bauer (Volunteer Observer)- Gordon Gunter Leg 1 of Winter Cruise
Posted on April 3, 2018
Date - 14 Jan 2018Today our ship survey traversed the entire continental shelf towards the south of Pascagoula, from just outside the barrier islands to a point ending at about the 200 m depth contour. Tomorrow we are poised to survey only deep waters. No hitches or glitches occurred, with both the ship and our gear performing as planned. The tally was just over 1,000 individual birds. Although patchy at times, we continued to record birds throughout the day; seabirds on the shelf seemed more widely distributed than during the warmer months. Thirteen marine species were detected, including northern gannet (in the hundreds), Bonaparte's gulls, red-necked phalarope, and both pomarine and parasitic jaeger (no seaducks in open water).
---
Posted by Jeff Gleason (FWS) for Chris Haney (Terra Mar Applied Sciences, LLC) & Jon Andrew (Volunteer Observer- retired FWS)- Gordon Gunter Leg 4 of Winter Cruise
Posted on April 3, 2018
Date-1 Mar 2018 (Day 1)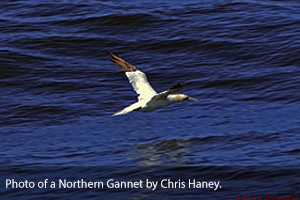 The Gordon Gunter is to start surveying in the far southeast near the Florida Keys, then later work its way back north. Consequently, we had a very long transit to kick off of this leg. Leaving Pascagoula at 10:00, we ran southeast across the continental shelf. Because the flying bridge deck had been very recently painted, we had to use a wing bridge (without laptop hookup). Nevertheless, we could tally birds (and some other data) by hand/paper in density bands of 100m, 200m, 300m, and >300m. No surprises on the inner and middle continental shelf, although hundreds and hundreds of northern gannets are always nice to watch. Other species included herring, laughing, Bonaparte's, and great black-backed gulls, royal tern, brown pelican, double-crested cormorant, and unidentified phalarope(s). Common loons seemed to occur a bit further offshore than on earlier legs.

Daily Total: 996 individuals, 10 species
Date-2 Mar 2018 (Day 2)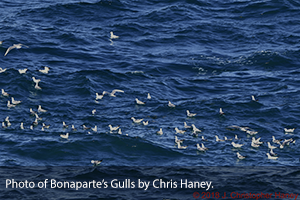 Today continued a long transit southward through offshore waters of Florida's Big Bend area and the state's central west coast. As we were traveling parallel to the depth contours and we crossed no conspicuous environmental gradients or significant oceanographic features, it was a very slow day. In addition to the occasional herring gull, laughing gull, and northern gannet, we saw our first Audubon's shearwaters, a parasitic jaeger, and an unidentified storm-petrel. We were able to now use the flying bridge

Daily Total: 13 individuals, 6 species
 
Date-3 Mar 2018 (Day 3)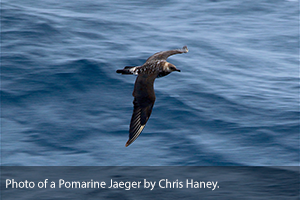 As soon as we stepped onto the flying bridge at sunrise, we saw birds. From 06:00 to 07:45, we watched hundreds of terns streaming in a northwesterly direction, just inshore of the shelf break. We suspect that these birds originated at the Tortugas and were doing a daily commute out to the tuna grounds off southwest Florida. Some bridled terns were represented in this wave. However, some sooty terns seemed to be in prominent molt, their plumage not showing the crisp blackish tones of the summer, so we had to tally many individuals as unidentified Onychoprion. In addition, to many more Audubon's shearwaters, we found our first brown booby, pomarine jaeger, and magnificent frigatebird. We also had our first [subtropical] feeding flocks of the trip, with sooty terns being the nucleus, as usual.

Daily Total: 458 individuals, 6 species
 
Date-4 Mar 2018 (Day 4)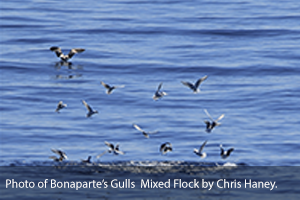 This was a day for Audubon's shearwaters. Surveying in the western Florida Straits, we saw this tubenose throughout the entire day. In addition, to scattered ones and twos, many of which were trap-line feeding at small patches of Sargassum, we saw small compact flocks of 20-30 individuals, and one large group found by Jon Andrew sitting on the water and numbering at least 150 birds. The latter had 4 parasitic jaegers also in attendance, doing their best to get a free meal out of the resting shearwaters. More sooty terns and scattered magnificent frigatebirds (feeding with the sooties) rounded out the day.

Daily Total: 466 individuals, 4 species
---
Posted by Meg Lamont (USGS)
Posted on September 20, 2017
In partnership with biologists at Eglin Air Force Base, 11 individual juvenile green and Kemp's ridley (Lepidochelys kempii) sea turtles were captured in the nearshore waters of the Gulf of Mexico of the northwestern Florida coast. One large juvenile green turtle (named Emerald) was chosen to carry a satellite tag. This is one of the first opportunities to observe movement patterns and habitat use of large juvenile green turtles captured in the open ocean. In addition, biological samples including skin and blood were collected from all captured turtles. These samples will be analyzed to determine population connectivity.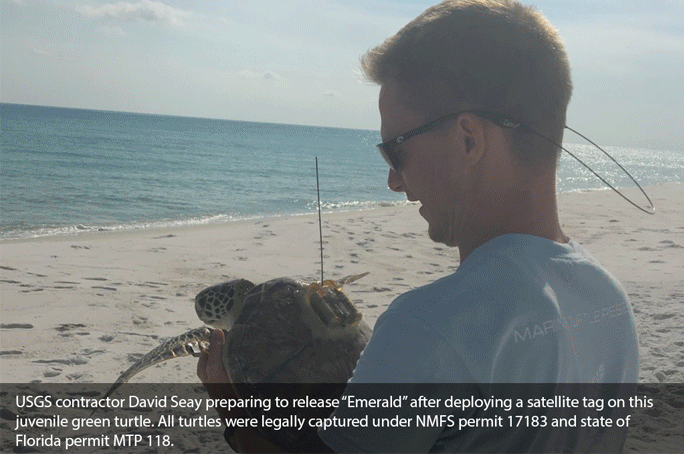 ---
Posted by Jeff Gleason (FWS) for Chris Haney (Terra Mar Applied Sciences, LLC) & Dan Bauer (Volunteer Observer)
Posted on August 13, 2017
Today marked day 5 of surveying on Leg #3 of the summer 2017 GoMMAPPS marine mammal survey aboard the R/V Gordon Gunter (August 9-25th). Our time so far has been spent on several quite long transits and also finishing a lopsided V track-line in the east-central Gulf left-over from the previous marine mammal cruise. Tonight we are commuting to a point S of west-central LA where we will survey from that point W for the remainder of the month. As on the last leg, almost all of our survey time is spent deeper and further offshore than the continental shelf. Weather has been generally fair with some very calm seas and good viewing conditions. Last week's Tropical Storm/Hurricane Franklin was a non-factor, not even producing the expected large swells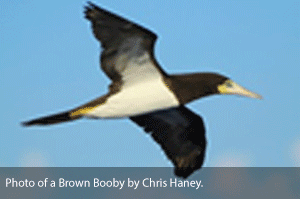 Pelagic birding has been active. It took us less than 48 hours to tally our first 1,000 birds of various coastal, marine, and offshore species. Within the massive zone of Mississippi River outflow, numbers of Black Terns seem to have increased substantially compared to earlier this season. Most of these terns are now out of their sharp breeding plumage, but they are still aggregated over flocks of bait fish that roil the fresher water typical of the north-central Gulf. Fall migration is well underway more generally, too, as we have detected various swallows, warblers, shorebirds, and Ardeids; all heading S. Further offshore, in more saline waters, Sooty Terns remain the locus for single- and mixed-species feeding flocks that form over small tuna. On one evening we watched more than 100 of these terns high over the Gulf milling against the brilliant setting sun. Other highlights include a good look at White-tailed Tropicbird, a female Brown Booby with two young-of-the-year in tow (most boobies are singles), and several more Black-capped Petrels, also associated with tuna in the east-central Gulf. Conversely, Band-rumped Storm-Petrels seem less common so far than last month, although still widely distributed.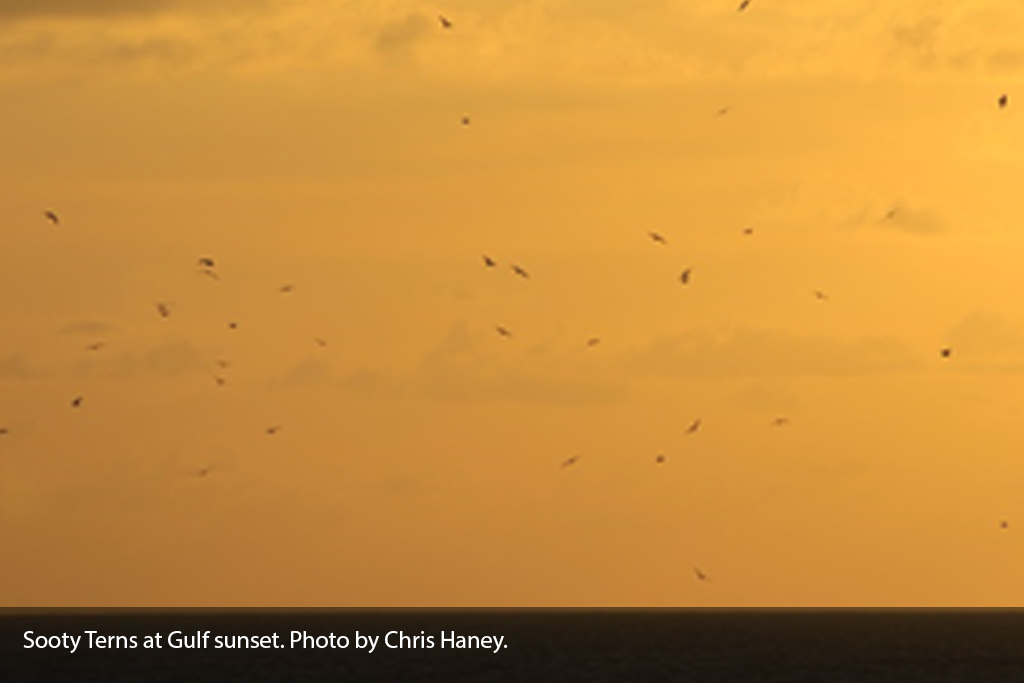 Two firsts for me … One was perhaps the largest flock of Bridled Terns I've ever seen, not that large in absolute numbers (40-60), but also not the 1s and 2s more typically recorded here in the Gulf. They were feeding over some large fish that were driving up small prey in and around huge mats of Sargassum. And I've seen small flocks of BOTH Bridled and Sooty Terns sitting, resting on the ocean, albeit only under the calmest of conditions, Beaufort sea state 0 to 1. Marine mammals have delivered, too, with highlights being Clymene dolphin, Fraser's dolphin, short-finned pilot and pygmy killer whales, along with several of the more widespread or common species seen on our earlier leg.
---
Posted by Meg Lamont (USGS)
Posted on August 7, 2017
Shortly before sunrise, a nesting female emerged from the Gulf of Mexico onto the St. Joseph Peninsula, FL. Biologists at the USGS were there to deploy the second satellite tag on a nesting green turtle in the northern Gulf of Mexico this summer. This individual, named Candace, will be tracked (along with additional nesting greens) to determine what areas of the Gulf are important to adult female green turtles and how these individuals use the water column.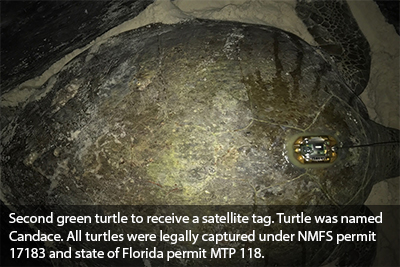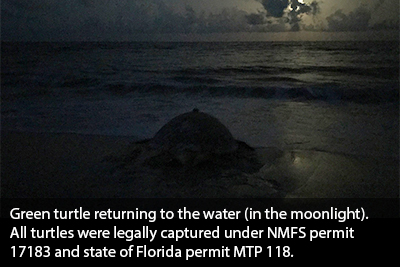 ---
Re-Posted from NOAA Fisheries Service
Posted on August 1, 2017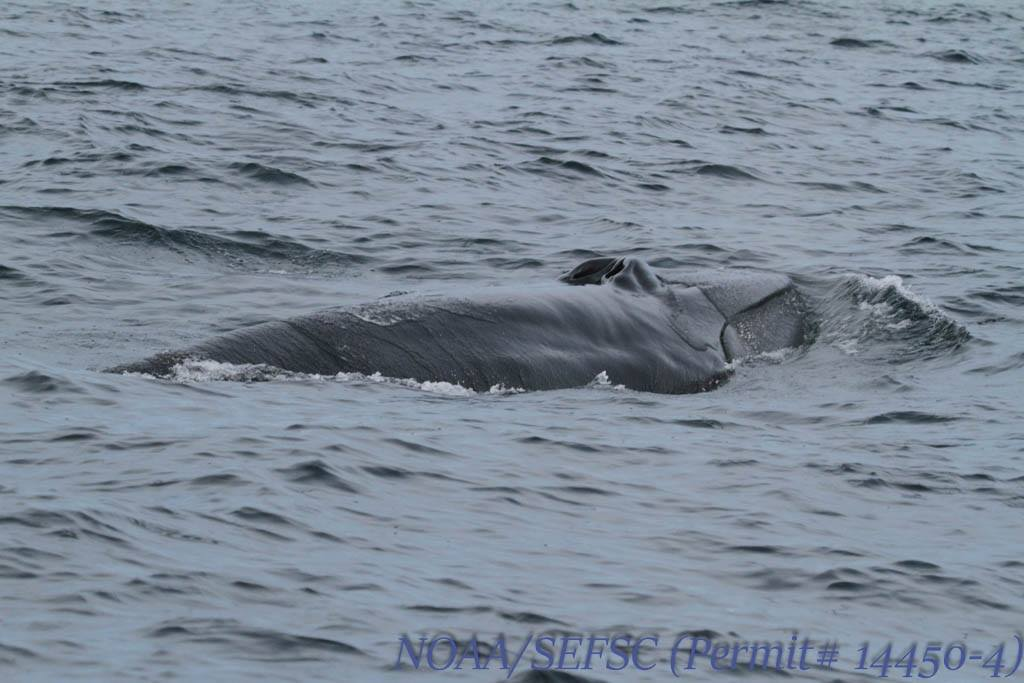 What a sight! NOAA marine mammal scientists from the Southeast Fisheries Science Center recently sighted Bryde's whales while conducting a research cruise in Gulf of Mexico waters aboard the NOAA Ship Gordon Gunter. The Bryde's whales were sighted in the northeastern Gulf of Mexico off Florida where scientists have historically documented them. These whales are rare and the only year-around resident baleen whale in the Gulf of Mexico. They are proposed for listing as endangered under the Endangered Species Act. Learn more about this species: http://www.fisheries.noaa.gov
Original Post: https://www.facebook.com/NOAAFisheries
---
Re-Posted from NOAA Fisheries Service
Posted on July 27, 2017
On July 22, scientists from the Protected Resources & Biodiversity Division of the Southeast Fisheries Science Center sighted a small number of killer whales, approximately 200 nautical miles west of Sarasota, FL. The encounter, while not wholly unexpected, is uncommon. Thought to occur in the Gulf of Mexico year round, these cryptic animals are recognized as apex predators and are known to eat both fish and other marine mammals in the Gulf of Mexico. The scientists are on NOAA Ship Gordon Gunter as part of a multi-year, multi-agency program to help improve our understanding of the living marine resources in the Gulf of Mexico known as the Gulf of Mexico Marine Assessment Program for Protected Species (GoMMAPPS): https://www.boem.gov/GOMMAPPS
Original Post: https://www.facebook.com/NOAAFisheries/
---
Posted by Jeff Gleason (FWS) and Chris Haney (Terra Mar Applied Sciences, LLC)
Posted on July 24, 2017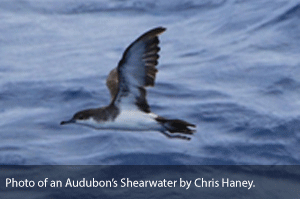 We have just finished the first 3 days of Leg #2 of the summer marine mammal cruise aboard the R/V Gordon Gunter in the Gulf of Mexico (July 21st – August 5th). Our track-lines so far have encompassed a deep-water arc from about the latitude of Tampa-St. Petersburg, FL NW to an area S of Panama City, FL. So long as we stay away from the continental shelf, the surveys are fairly consistent in picking up birds (though local hotspots still occur). We have tallied 130-230 individuals and 10-15 species of offshore/pelagic birds daily. Highlights include Fea's Petrel (2), Black-capped Petrel (2), three booby species (including one brown-phase Red-footed Booby) ALL IN ONE DAY, a [probable White-tailed] Tropicbird, and regular encounters with feeding flocks of 8-50 birds wherein Sooty Terns are the primary catalyst (over tuna). Audubon's Shearwaters are widespread; Band-rumped Storm-Petrels continue to be regular almost everywhere in deep water. We have also had close encounters with Bryde's whales, not to mention killer and melon-headed whales.
---
Posted by Meg Lamont (USGS)
Posted on July 16, 2017
Finally! After surveying for three straight nights on Eglin Air Force Base (EAFB) property on Santa Rosa Island, FL, biologists from EAFB and the USGS finally located a nesting green turtle (Chelonia mydas). Beaches in the northern Gulf of Mexico are frequented by nesting loggerheads (Caretta caretta); however, green turtles nest in relatively low numbers therefore very little is known of their habitat use and movement patterns in this region. This turtle, named Robyn, is one of the first green turtles nesting in this region to carry a satellite tag thereby providing the USGS with information on movements, habitat use and dive patterns.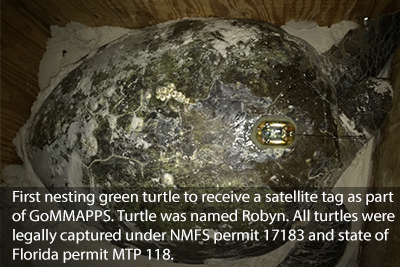 ---
Posted by Jeff Gleason (FWS) and Lisa Hug (Contract Observer)
Posted on June 21, 2017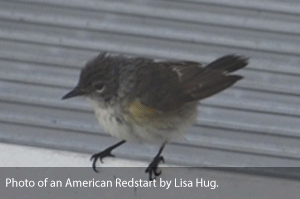 Reporting on seabird observations from the R/V Pisces surveying in coastal Florida waters during June 1st – 17th. Overall, the first 3-5 days were fairly slow with <20 birds/day for 12-13 hrs of observation effort! Most of the birds we've seen were Laughing Gulls, Royal Terns, Cattle Egrets, the occasional Magnificent Frigatebird and Pomarine Jaeger, though we did have an immature Red-footed Booby that landed and stayed on the vessel for several days. We've also had both adult Brown Booby and Masked Booby. Interestingly, the Brown Boobies seem to outnumber Masked Boobies? We did have a Palm Warbler and American Redstart on the vessel for ~ 2 days. We're anticipating that we will get progressively busier in terms of abundance and species diversity as we get closer to the Dry Tortugas reeffish blocks. In general, this particular cruise is a bit more challenging to conduct seabird surveys from because much of the day (8-10hrs) is spent stationary at reeffish survey sites with ~30-60 min/site. The approach we have taken is we go "off effort" (i.e., on point) once we get the call on the radio indicating arriving at site and/or the vessel has slowed to <5 knots. We then go back "on effort" (i.e., on transect) once we get the call on the radio indicating heading to next site and vessel has achieved speed of <5 knots. We are counting birds while at reeffish survey points, as well as on transect between points. We also conduct transect surveys at the end of the day when we are transiting between reeffish survey blocks.
---
Posted by Jeff Gleason (FWS) for Chris Haney (Terra Mar Applied Sciences, LLC) & Michelle McDowell (FWS)
Posted on May 19, 2017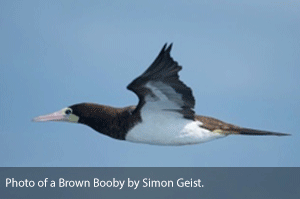 Reporting on seabird surveys aboard the R/V Oregon II during May 16-30th. On day one, we had a nice, steady stream of coastal Larids in brown/green water habitat to enter on a fairly long transect. Best sightings of this day were a few feeding flocks of Black Terns foraging very low on the water in 'swarms' over some kind of bait fish. Day two was another long transect entirely in deep blue water where birds were scarce: Laughing Gull, Bridled Tern (nice this far west, and sitting on flotsam near Sargassum), and Magnificent Frigatebird soaring over an oil platform. On day three, well, we hit a kind of pay dirt. On the very first transect of the day, we had a Brown Booby chasing flying fish put up in front of the ship's bow, a 4th year sub-adult Masked Booby, and then a Black-capped Petrel!! Yes, you read the last one correctly. I think this could be kinda a big deal ... this bird was sitting on the water when first seen, and then got up and flew away in typical Pterodroma style. This sighting was very near the edge of the EEZ (with Mexico). We also had several Band-rumped Storm-Petrels, in tight groups of 3, which makes me wonder if these were little post-breeding family groups. We also had a few Brown Pelicans in the middle of the Gulf! All were immature, one resting by itself on the water, three more making steady movement N-NE from the direction of Mexico. In terms of Landbirds - none seen so far, and that's a bit surprising, but perhaps explicable due to generally clear weather (for migration).
---
Posted by Jeff Gleason (FWS) for Nicholas Metheny (Contract Observer)
Posted on May 5, 2017
Our 1st leg on the R/V Oregon II cruise (spring plankton survey; 4/28 – 5/11) started off a little hectic. But after the first week, things are settling into place. Seabirds are few and far between. We first headed East and paralleled the Florida Coast and adjacent to the Straits of Florida (south and west of the Dry Tortugas). We are currently running a line back North, but further West than our previous line, but high winds are proving again to be a hindrance on progress, as it was in the first few days.
Highlights of the cruise have been seeing feeding flocks of Sooty Terns, one flock containing Audubon Shearwater, Parasitic Jaeger, and Brown Booby. I had one Brown Noddy near dusk at the start of the cruise. Migrants seen have mostly been various species of swallows with 90%+ being Barn Swallows, as well as Cattle Egrets, two White-rumped Sandpipers, and a female American Redstart. Other species seen thus far have been Common Tern, Sandwich Tern, Bridled Tern, Royal Tern, Laughing Gull, Leach's Strom-Petrel, Band-rumped Storm-Petrel, Magnificent Frigatebird, and Brown Pelican. The best non-avian sighting of the trip has been a juvenile Whale Shark.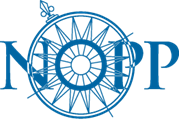 This study is a partnership between BOEM's Environmental Studies Program, NOAA's Southeast Fisheries Science Center, USFWS Southeast Region, and USGS Wetland and Aquatic Research Center. This program is officially recognized as a research partnership through the National Oceanographic Partnership Program (NOPP).

For additional information regarding GoMMAPPS, questions may be directed to Pasquale Roscigno at (504) 736-2752. Media/press questions should be directed to Public Affairs at (504) 731-7815