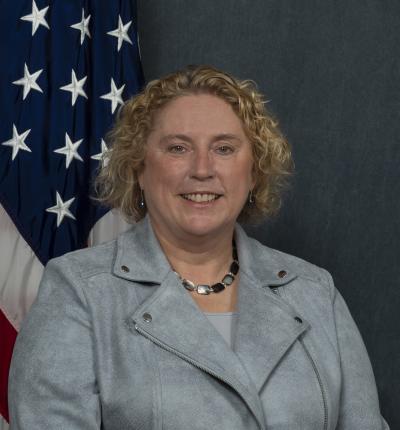 Karen J. Baker is the Chief of BOEM's Office of Renewable Energy Programs (OREP). She oversees the responsible development of renewable energy resources on the Outer Continental Shelf through conscientious planning, stakeholder engagement, comprehensive environmental analysis, and sound technical review.
With more than 25 years combined private industry and federal government experience, Karen has served in a variety of leadership positions in strategic planning, energy and environmental policy, and public affairs.
This is Ms. Baker's third senior executive position with the federal government. Most recently, she served as the Regional Programs Director for the North Atlantic Division (NAD), U.S. Army Corps of Engineers (USACE) from 2019 to 2022 where she was responsible for the development and execution of all military, civil works, environmental, interagency, and international programs for New England and mid-Atlantic states east of the Appalachian Mountains, Europe and Africa. From 2015-2019, she was USACE's Chief of Environmental Programs, overseeing the nationwide delivery of environmental services for the military and federal partners, and serving as the leader of Environmental Community of Practice, whose activities focus on professional development and technical competency for the 4,000 environmental specialists across USACE.
She earned a Bachelor of Science in Marketing from the University of Maryland (1990), a Master of Science in Environmental Sciences and Policy from Johns Hopkins University (2003), and a Master of Science in National Security Strategy from the National War College (2010).