About the Conference
The California Ocean Renewable Energy Conference was a forum to share information about regulatory frameworks, resources, technologies, and environmental research relating to wind and wave energy offshore California.
Goal:
Inform and improve collaboration among stakeholders in wind and wave energy offshore California.
 
Objectives:

•   Explain regulatory roles and processes relating to wind and wave energy
•   Identify strategies for effective collaboration among regulatory agencies
    and stakeholders
•   Describe wind and wave energy resources and technologies
•   Highlight scientific research about potential environmental interactions
    relating to ocean renewable energy activities
 
Who Attended:
Federal, state, and local representatives; marine resource managers; scientists; engineers; energy planners; educators; and the public
Conference Report

A summary report is under development. When complete, it will be available here.
Venue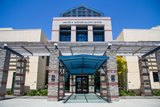 Walter A. Buehler Alumni Center


University of California, Davis
530 Alumni Lane
Davis, California 95616
The two-day conference included opening remarks by Federal and State representatives, invited presentations in consecutive themed sessions, Q&A discussions, and an evening social event.

To see the conference agenda, click here.
Conference speakers included a cadre of representatives from government, academia, and the private sector who have diverse backgrounds, experience, and expertise.

To see the list of speakers, click here.
Most of the conference presentations included slide shows, and all of the slide shows are now available.
To view or download a Portable Document Format (PDF) file of a presentation slide show, click here to see the list of presentations, then click the PDF file icon for the presentation of interest.
To see the list of attendees - including name, affiliation, and email address - click here.
U.S. Department of the Interior • Bureau of Ocean Energy Management
The Bureau of Ocean Energy Management (BOEM) manages the exploration and development of the nation's offshore energy resources. The bureau seeks to balance economic development, energy independence, and environmental protection through responsible management of offshore conventional and renewable energy development based on the best available science. BOEM conducts environmental reviews, including National Environmental Policy Act (NEPA) analyses and compliance documents for each major stage of energy development planning. These analyses inform the bureau's decisions on exploration and development activities. Additionally, BOEM's scientists conduct and oversee environmental studies to inform policy decisions relating to the management of energy and marine mineral resources on the OCS.
University of California, Davis • College of Engineering
The UC Davis College of Engineering is one of the largest engineering programs in the U.S., with majors from a broad scope of engineering disciplines, including aerospace science, biochemical, biological systems, biomedical, chemical, civil, computer science, electrical, materials science, and mechanical engineering. College researchers and educators focus on specific areas of concern: energy, environment, health and biology, information technology and management, and physical infrastructure. They are recognized leaders in energy efficiency, biomass, wind, alternative fuels and transportation, data visualization, optical communications, network security and biomedical imaging. The College of Engineering also has a long standing tradition of public service and fosters this commitment through programs such as the Renewable Energy Systems Opportunity for United Research Collaboration and Education (RESOURCE), which partners with local elementary and middle schools to develop innovative curriculum for future engineers.
Argonne National Laboratory

Bureau of Ocean Energy Management

National Renewable Energy Laboratory

U.S. Department of Energy

U.S. Geological Survey


California Coastal Commission

California Energy Commission

California Ocean Protection Council

California Natural Resources Agency

California State Lands Commission


APEM, Inc.

California Polytechnic State University, San Luis Obispo

H.T. Harvey & Associates

Mott MacDonald

Oregon State University

Pacific Ocean Energy Trust

Principle Power, Inc.

University of California, Davis

Contact Us

For additional information:

Cathie Dunkel, Conference Coordinator


Bureau of Ocean Energy Management

Phone: 805-384-6386

Email: catherine.dunkel@boem.gov


 
www.BOEM.gov