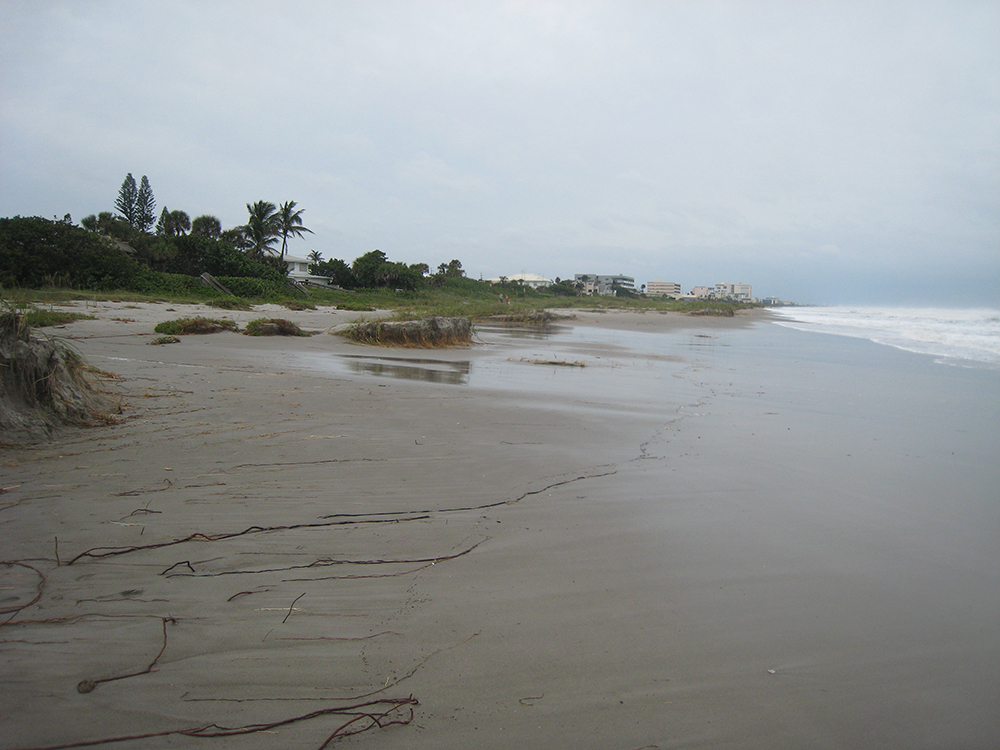 Cocoa Beach after Hurricane Sandy
Photo by Paula Berntson, Brevard County
Natural Resources Management Department
BOEM will meet with members of the Florida Sand Management Working Group at the Delray Beach Marriott on Tuesday, September 24, 2013, from 1:00-5:00 pm in Delray Beach, Fla. The meeting will take place before the official start of the Florida Shore and Beach Preservation Association annual conference.
BOEM's objectives for the meeting are to 1) create a forum to discuss coastal restoration issues and concerns related to the Outer Continental Shelf (OCS); 2) exchange information and perspectives; 3) improve communication and coordination; and 4) provide updates on funding opportunities, research efforts, coastal projects and challenges.
BOEM manages the sand and gravel resources from the OCS. Colleen Finnegan, an oceanographer serving on BOEM's Marine Minerals Program staff, will describe the bureau's response to Hurricane Sandy, its related research efforts, particularly regarding Florida and other areas affected by Hurricane Sandy.
The working group consists of representatives of state and federal agencies, researchers, non-governmental organizations and stakeholders that are committed to promoting a resilient and sustainable approach to the management of marine resources in an ecologically sound manner.
What:  BOEM Discussions @ Florida Sand Management Working Group
Date & Time: September 24 2013, 1:00 - 5:00 pm
Where:  Delray Beach Marriott, 10 N. Ocean Blvd., Delray Beach, FL 33483.
Additional information on the conference including the agenda, attendance fees, etc., can be found here.
Click here for more information about BOEM's Marine Minerals Program.