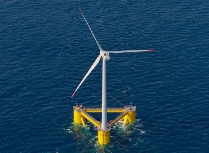 WindFloat Technology
Photo courtesy of
Principle Power, LLC
The third BOEM/Hawaii Intergovernmental Renewable Energy Task Force Meeting is scheduled for Wednesday, June 3, 2015 at the Homer A. Maxey International Trade Resource Center located at Pier 2, 521 Ala Moana Boulevard, Honolulu, Hawaii.
BOEM will present information on two unsolicited lease requests for projects proposed offshore Oahu received in January, and will explain the next steps in BOEM's process. The Hawaii Department of Business, Economic Development and Tourism will also provide an update.
The intergovernmental session will begin at 9:00 a.m. and is expected to end by 2:20 p.m. A public question and answer session will be held after the intergovernmental session. The agenda will be posted on BOEM's website in advance of the meeting.
As a reminder, the BOEM Hawaii Renewable Energy Task Force is an intergovernmental group. Task force members include Federal, state and county officials.
For more information about BOEM renewable energy efforts offshore Hawaii, click here.