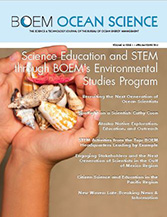 You have been receiving news about BOEM (Press Releases and/or Notes to Stakeholders) at your request. Today, I'm sending you a link to the latest issue of BOEM Ocean Science Magazine. The magazine is published three to four times a year and highlights an issue or program within BOEM. This issue provides information on our science education and STEM outreach initiatives in all four Outer Continental Shelf regions, just in time for a new school year.
We welcome your feedback on this and any other issue we have published and would also like to hear if you have ideas on topics for future magazines.
If you would rather not receive BOEM Ocean Science Magazine, please let us know and we'll make sure you don't receive any additional issues.
We hope you'll enjoy learning about BOEM's efforts in science education and look forward to hearing from you.
Connie Gillette
Chief, BOEM Office of Public Affairs
Washington, D.C.