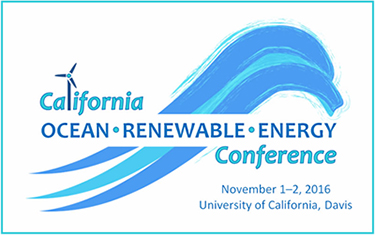 Join us on November 1-2 at the California Ocean Renewable Energy Conference in Davis, California to learn about regulatory frameworks, resources, technologies, and environmental research relating to wind and wave energy offshore California. The conference is sponsored by the Bureau of Ocean Energy Management (BOEM) and will feature:
Opening remarks by Federal and State representatives
Invited presentations in themed sessions
Speakers from government, academia, and the private sector
Q&A discussions
Evening social event
There is no fee to register for the conference, but seating is limited and participants are encouraged to register online in advance.
For additional information and to register online, please visit the conference webpage at: www.boem.gov/CORE_Conference.
John Romero
Bureau of Ocean Energy Management
Office of Public Affairs
Tel: (805) 384-6324
Cell: (805) 312-2429