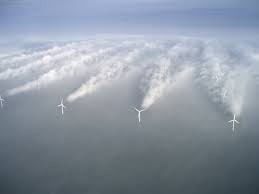 As part of the Obama Administration's all-of-the-above energy strategy to continue to expand safe and responsible domestic energy production, the Bureau of Ocean Energy Management (BOEM) announced it is proposing to extend timing requirements for submitting a Site Assessment Plan (SAP) or General Activities Plan (GAP) pursuant to the agency's renewable energy regulations.
Under this proposed rule, all Outer Continental Shelf (OCS) renewable energy lessees and grantees will have a 12-month period in which to submit a SAP or GAP. BOEM is taking this action because the time frames provided in the current regulations (either 6 months after a lease or grant is issued competitively or 60 days after BOEM determines that there is no competitive interest in a lease or grant) have proven to be impractical for the offshore renewable energy industry.
The proposed rule is designed to increase efficiency of BOEM's regulatory processes by establishing a reasonable time frame for the acquisition of site specific data and the submission of plans - presently, some offshore wind developers are requesting departures from the specified time frames on a case-by-case basis. Improving efficiency of regulatory processes is a major priority of the Department of Interior's 'Smart from the Start' initiative to facilitate environmentally responsible offshore wind development on the Atlantic OCS.
The proposed rule will be published in the Federal Register on Feb. 25 for a 30-day comment period, which will end on Mar. 27, 2013.
Comments may be submitted by one of two methods:
Submitted electronically at: http://www.regulations.gov. In the entry titled "Enter Keyword or ID," enter "BOEM-2012-0077," then click search. Follow the instructions to submit public comments and view supporting materials available for this rulemaking.
Delivered to:

ATTN: Docket ID No. BOEM-2012-0077
Program Manager, Office of Renewable Energy Programs
Bureau of Ocean Energy Management
381 Elden Street, HM 1328
Herndon, Virginia 20170-4817
All comments received during the comment period will be included in the public docket and will be made available online at www.regulations.gov.