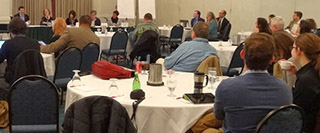 The Mid-Atlantic Regional Planning Body (MidA RPB) invites the public to provide input on the Draft Mid-Atlantic Regional Ocean Planning Framework (Draft Framework) by attending in-person public listening sessions across the region in the coming weeks. In addition, the public is encouraged to email written comments to the MidA RPB at MidAtlanticRPB@boem.gov.
The public is encouraged to participate in the next sessions in Norfolk, Virginia on March 20; in West Long Branch, New Jersey on March 27; and in Riverhead, New York on April 7.
Details about the upcoming public listening sessions can be found on the MidA RPB website. Please note: registration is strongly encouraged for the public listening sessions, but is not required; please visit the website to register for the listening sessions.
Interactive public listening sessions were held in Annapolis, Maryland on February 24 and in Lewes, Delaware on February 27. The slide presentations from the Maryland and Delaware sessions are posted on the website, along with written public comments received on the Draft Framework.
The Draft Framework proposes a draft vision, an initial geographic focus, and draft principles, goals, and objectives. The MidA RPB seeks robust public input and comments on the Draft Framework, which will provide guideposts for how the MidA RPB moves forward with regional ocean planning. The Draft Framework is available for public review and comment on the MidA RPB website through April 15.
The MidA RPB will consider all comments received in revising the Draft Framework. The MidA RPB will discuss the revised framework during its in-person meeting in the Spring of 2014. Please check the website for additional information.
The Mid-Atlantic Regional Planning Body (MidA RPB) was established in April 2013 to enhance collaboration on ocean and coastal issues in the Mid-Atlantic through regional ocean planning. The MidA RPB includes state, federal, tribal, and Mid-Atlantic Fishery Management Council representation and is eager to engage stakeholders throughout the regional ocean planning process. Please visit the website regularly for updated related information.