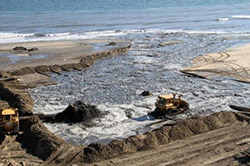 Aerial view of a restoration project at
Sandbridge Beach, Virginia.
Photo courtesy of US Army Corps of Engineers
The Bureau of Ocean Energy Management is sponsoring a meeting of the Central Atlantic Sand Management Working Group in Wilmington, North Carolina, on March 31 from 1:00-4:00 p.m. to discuss changes and progress regarding coastal restoration efforts.
BOEM will host a webinar for those unable to attend in person. This regional working group includes Maryland, Virginia, North Carolina, South Carolina and Georgia.
At this mid-year meeting, BOEM will provide updates on funding opportunities, research efforts and projects, and also discuss challenges. 
Please RSVP for the meeting by March 17 by visiting the following link and clicking the "register now" button: http://tech.kearnswest.com/boemsmwg/.  There is no registration fee for this meeting.  Once you have registered, additional details including webinar information and a calendar invitation will be sent to you from Kearns & West, Inc., who will help facilitate the meeting.
The working group is one of several that support BOEM's Marine Minerals Program, which authorizes the use of Outer Continental Shelf sand and gravel resources in coastal restoration projects. It consists of representatives of state and federal agencies, researchers, non-governmental organizations and stakeholders involved in coastal restoration activities.
What:   Central Atlantic Sand Management Working GroupMeeting
Date & Time:   March 31, 1:00-4:00 p.m.
Where:  New Hanover County HR Training Rooms A&B,
                230 Government Center Drive, Suite 135
                Wilmington, NC 28403.
For additional information contact: marineminerals@boem.gov.
To learn more about BOEM's Marine Minerals Program,click here.
About the Bureau of Ocean Energy Management
The Bureau of Ocean Energy Management (BOEM) promotes economic development, energy independence, and environmental protection through responsible, science-based management of offshore conventional and renewable energy resources.