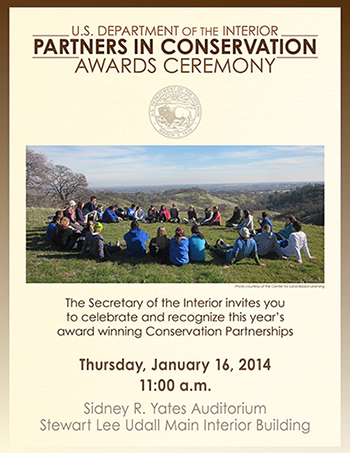 01-15-2014
Two science teams conducting research sponsored by the Bureau of Ocean Energy Management will be among 20 public-private partnerships  recognized by Secretary of the Interior Sally Jewell at the 2013 Partners in Conservation Awards ceremony on Thursday, January 16, at the Department's Yates Auditorium in Washington, D.C.
The event is scheduled for 11:00 a.m. (EST) and will be carried via the Department's live Internet feed.
The Partners in Conservation Awards recognize outstanding examples of conservation legacies achieved when the Department of the Interior engages groups and individuals representing a wide range of backgrounds, ages and interests to work collaboratively to renew lands and resources. The awards celebrate conservation achievements that highlight cooperation among diverse federal, state, local and tribal governments; public and private entities; non-profit organizations; and individuals.
The partnerships were selected for achieving exemplary conservation results through cooperation and community engagement.  Together, the 20 award-winning partnerships include recipients representing more than 260 organizations and individuals from across the United States and the world.
Save the date!
Date: January, 16, 2014
Time: 11:00 a.m. (EST)
To access the program: http://www.doi.gov/events 
About the Bureau of Ocean Energy Management
The Bureau of Ocean Energy Management (BOEM) promotes energy independence, environmental protection and economic development through responsible, science-based management of offshore conventional and renewable energy resource.