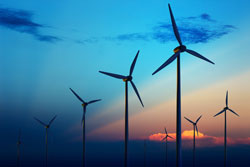 Earlier this summer, Department of Interior (DOI) issued a press release to announce the nation's second auction for offshore wind energy, which will take place offshore Virginia. To access the press release, click here.
The auction will commence at 10:30 a.m. Eastern Daylight Time on Sept. 4. It will offer almost 112,800 acres offshore Virginia for a commercial wind energy lease.
To check the status of the auction go to BOEM's website by clicking here. The website will be updated throughout the day.
If a provisional winner has been identified prior to end of day, an announcement will be made as soon as possible. If a winner has not been identified, the auction will continue the following day.