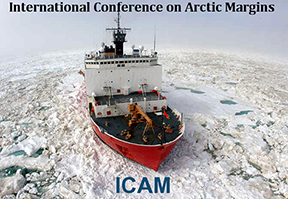 Much of the Arctic remains a mystery. Some basic scientific questions remain unanswered, and its vast and diverse natural resources are not adequately assessed. Over the last century, systematic scientific study of the Arctic has been hampered by the natural elements, the extreme financial costs of collecting data, and by limitations in technology.
Financial obstacles for research and exploration in the Arctic are still a major roadblock. Another challenge facing Arctic researchers and explorationists is cooperation, both on the national and international levels and the abandonment of "territorialism" in scientific politics. This kind of cooperation is not only more possible now, but it is now also imperative.
The International Conference on Arctic Margins (ICAM) was founded by the U.S. Department of the Interior Bureau of Ocean Energy Management, formerly the Minerals Management Service, in 1991 with the underlying two-point theme of 1) Arctic understanding, 2) international cooperation in Arctic research.
To these ends, ICAM has provided a successful forum for the exchange of information, collaboration in research, and presentation of results.
ICAM is organized, hosted, and conducted by scientists for scientists which makes it a unique forum.
---
---
Special Thanks to

BOEM, Alaska Region

for Hosting this Site