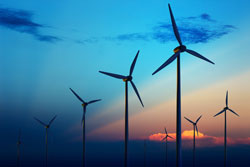 BOEM is pleased to announce it will host Visual Simulation Open Houses to present the results of a visualization study that was conducted to accurately represent how wind turbines could be viewed from shore during various weather conditions and times of day.  Additional information on this study can be found at Offshore North Carolina Visualization Study.
Those attending the open houses will be able to share their opinions on what they have seen with a court reporter.  The comments collected at these meetings will be used to inform BOEM's planning process offshore North Carolina. 
The open house dates are:
Monday, August 12 (5:00 p.m. - 8:00 p.m.)
Wingate by Wyndham Southport
1511 North Howe Street 
Southport, NC 28461 
Wednesday, August 14 (5:00 p.m. - 8:00 p.m.) 
South Brunswick Islands Center
9400 Ocean Highway 17 W
Carolina Shores, NC 28467
Background Information 
BOEM published a Call for Information and Nominations, Commercial Leasing for Wind Power on the Outer Continental Shelf Offshore North Carolina, in the Federal Register on December 13, 2012 to gauge the offshore wind industry's interest in acquiring commercial wind leases in three areas offshore North Carolina and to request comments regarding site conditions, visual concerns, resources, and other uses within the areas including vessel traffic. 
The three Call Areas are comprised of 195 whole OCS blocks and 60 partial blocks, totaling 1,441 square nautical miles. One area, Call Area Kitty Hawk, is located six miles offshore Kitty Hawk, and two areas (Call Area Wilmington-West and Call Area Wilmington-East) are located seven and 13 miles offshore southern Wilmington, North Carolina respectively.
BOEM's planning process is designed to identify areas for commercial offshore wind development with the least environmental and use conflicts, while also protecting sensitive habitats and resources and minimizing space use conflicts with activities, such as military operations, shipping and fishing. Site-specific mitigation measures, stipulations or exclusion areas may be developed as a result of future environmental reviews and associated consultations.
In addition to the Call, BOEM published a Notice of Intent (NOI) to Prepare an Environmental Assessment (EA) to seek public comment for determining significant issues and alternatives to be analyzed in an EA.  The EA will consider potential environmental and socioeconomic impacts associated with issuing commercial wind leases, conducting site characterization and approving site assessment activities on the lease areas.  For more information about the Call, NOI, public meetings, and comments BOEM has received, go to our North Carolina Activities page.