Sub title
Towns of Duck, Kitty Hawk and Kill Devil Hills to benefit
Washington, DC
Contacts: Marjorie Weisskohl
703-787-1304
The Bureau of Ocean Energy Management (BOEM) has signed an agreement with Dare County, North Carolina, to provide up to 4.825 million cubic yards of sand from federal waters as part of a shoreline management project for the towns of Duck, Kitty Hawk, and Kill Devil Hills. The shore protection project, using sand from the seafloor of the federal Outer Continental Shelf (OCS), will renourish approximately 8 miles of beach, which is more than half of the 15 miles of oceanfront shoreline adjacent to the three towns. Dredging is expected to begin in the spring of 2017.
"BOEM is pleased to support Dare County in this project, knowing how important these beaches are to the local economy," said BOEM Director Abigail Ross Hopper. "This project will help protect infrastructure from storm damage, mitigate erosion that threatens biological, recreational, and cultural resources, and help sustain habitats that support various birds and animals, including sea turtles," Hopper said.
Nourishing the beach will meet several shore protection goals. The project will help protect vulnerable public infrastructure, including N.C. Highway 12 and U.S. Highway 158, which are critical evacuation routes. Additionally, it will reduce flooding of roads and homes behind the shoreface, which will help first-responders react during emergency situations. Finally, the project will protect public and private development, including the beaches that are vital to the local economy.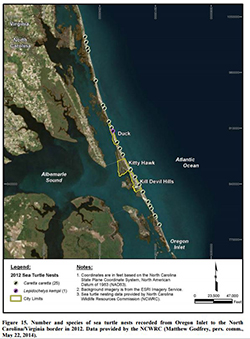 A picture from the Duck Environmental
Assessment shows the number and species of sea
turtle nests recorded from Oregon Inlet to the
North Carolina/Virginia border in 2012. Caretta
caretta (Loggerhead turtles) and the Lepidochelys
kempii (Kemp's ridley) are just two of the sea turtle
species that inhabit this region. BOEM works with
the USACE, the contractor and the local community
to minimize and avoid impacts to sea turtles during
the dredging and beach construction activities.
"Dare County is pleased to collaborate with the Bureau of Ocean Energy Management and the towns of Duck, Kitty Hawk and Kill Devil Hills to bring this much needed nourishment project to fruition," said Dare County Manager Bobby Outten. "This nourishment project will provide substantial storm protection for our coastal communities and ensure robust shorelines are available for our residents and visitors to enjoy for many years to come."
The sediment will be dredged from two borrow areas located between four and six-and-a-half nautical miles offshore in federal waters. To meet its stewardship responsibilities, BOEM, in partnership with the U.S. Army Corps of Engineers (USACE), the county and the towns, prepared individual National Environmental Policy Act (NEPA) analyses for each of the three projects. In addition, BOEM and the USACE jointly consulted on Endangered Species, essential fish habitat, National Historic Preservation Act coordination, and Coastal Zone Management consistency. The summary Environmental Assessments for Duck, Kill Devil Hills, and Kitty Hawk are available on BOEM's Marine Minerals Program North Carolina project page.
BOEM has the authority to convey OCS sand resources for shore protection, beach or wetland restoration projects undertaken by a federal, state or local government. In exercising this authority, BOEM may issue a negotiated non-competitive lease for the use of OCS sand to a qualifying entity.
BOEM has invested more than $40 million over the past 20 years to identify non-energy resources on the OCS, conduct world-class scientific research, and lease OCS resources to coastal communities and other Federal agencies in need. Information from environmental research and resource identification has informed environmental assessment and leasing decisions concerning the use of OCS sand resources in beach nourishment and coastal restoration.
For more information about BOEM's Marine Minerals Program, visit the website, http://www.boem.gov/Marine-Minerals-Program/. Follow us also on Facebook, Twitter, LinkedIn and other social media channels.
- BOEM -
BOEM promotes energy independence, environmental protection and economic development through responsible, science-based management of offshore conventional and renewable energy and marine mineral resources.